A to F: Grading California's Cities Water Conservation Efforts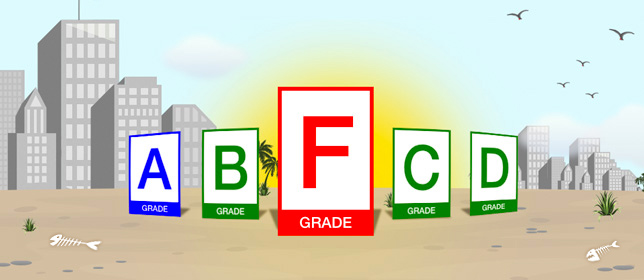 With our lakes and reservoirs disappearing before our eyes, conserving water has never been more important. To encourage water conservation, Gov. Jerry Brown announced an executive order on April 1st that California cities and towns must reduce their water consumption by 25%.
Based on data collected from the California State Water Resources Control Board dated May 5, 2015, SERVIZ has assigned a grade to 29 cities, based on their water usage and conservation efforts.
Take a look to see how your city stacks up. And don't forget to share - water conservation is everyone's responsibility!
We've also included a Top 10 Drought Tips. Just scroll to the bottom to discover ways to save 28,000 gallons a year!
To help you save water, SERVIZ offers a Drought Home Tune-Up. With a tune-up, an insured Plumber will inspect your home's plumbing system and make water-saving adjustments as needed. The services include:
adding faucet aerators
installing low-flow shower heads (customer supplied)
dual flush toilet installation (customer supplied)
installing localized on-demand water heaters
The technician will also offer additional water conservation tips as part of the tune up. While recommendations for every home is different, we find that many of these drought saving improvements are inexpensive to make and can save thousands of gallons of water a year.
To book a Drought Home Tune-Up, call (844) 473-7849. Same-day bookings available.