Garage Door Buying Guide - Materials, Styles, Windows, and More!
Pressed for time? Watch our Garage Door Buying Guide video to find great recommendations for materials, window styles, and more!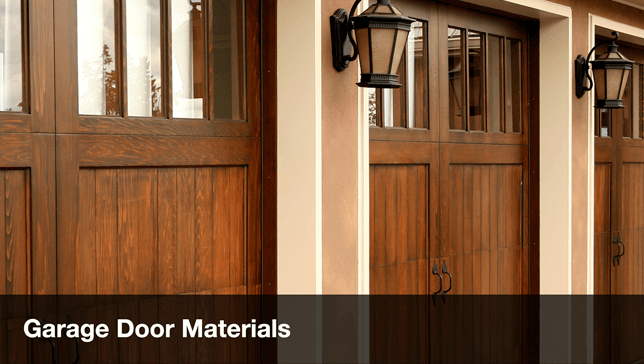 The type of garage door material you need depends on your taste and home decor. Whether your home is traditional or modern, choosing the right material for your garage doors will add immeasurably to your home's curb appeal. There are nearly a dozen different types, so look through this guide to find a door that best fits your style.
Glass Garage Doors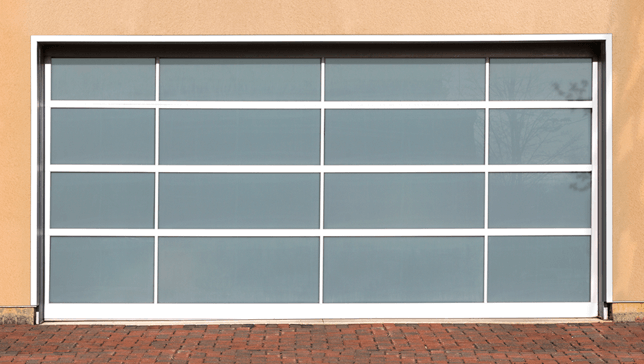 This style is gaining in popularity and it's not hard to see why. Glass doors improve curb appeal immensely, creating a modern look that really stands out. They also allow sunlight to stream through, illuminating a darkened garage naturally.

Breakage is always a possibility with glass. Modern aluminum alloy frames, however, can help guard against this. Another con is that glass garage doors are uninsulated, which may be a problem if you live in a colder climate or are concerned about energy efficiency.
Wooden Garage Doors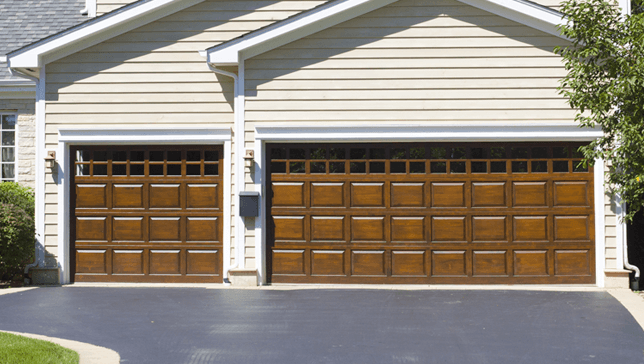 These doors offer beauty, customization, and good insulation. Wooden doors can be made from a variety of types (walnut, fir, cedar, redwood, mahogany, spruce, hemlock) and custom-crafted to match your home's decor. Wooden garage doors have an added versatility - they can be designed to swing open, slide or fold.

Wooden doors require regular maintenance, and painted wood doors are prone to fading. If not properly treated and maintained, rain and humidity may cause warping.
Vinyl Garage Doors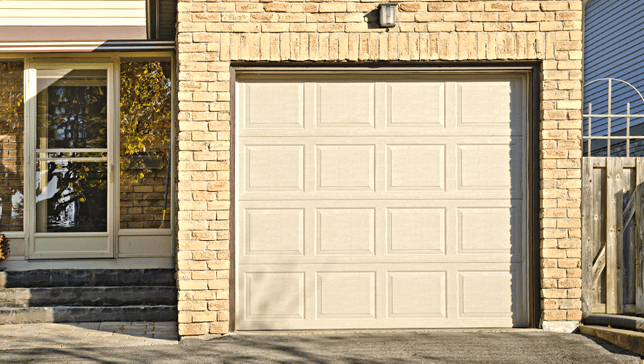 Low maintenance, with good energy efficiency. Resistant to chipping or peeling. Modern vinyl garage doors are also UV resistant, so their colors won't fade as quickly.

Cannot change colors as easily as with wood doors. If you think you will want to paint in the future, this may not be the best choice.
Wood Composite Garage Doors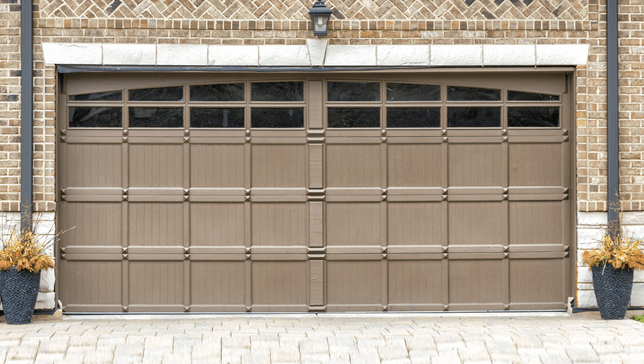 Wood composite garage doors are eco-friendly, made of a wood veneer fiberboard. They are lightweight and resistant to cracking, rotting, and splitting.

Composite wood doors, although extremely versatile, are more costly than other doors. They also have a tendency for the veneer to separate from the fiberboard if moisture gets in. To protect your wood composite doors, apply the proper sealing.
Steel Garage Doors


Excellent durability, requiring little maintenance. Good aesthetics and curb appeal.

Lower-priced steel doors may not be as energy efficient as higher-end models. Also susceptible to rusting.
Fiberglass Garage Doors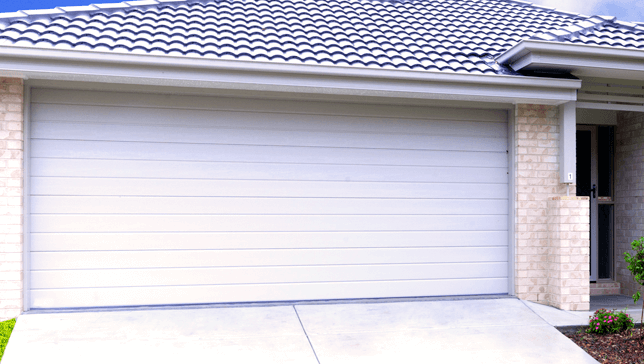 Fiberglass doors offer a cheaper alternative to steel doors. They have a steel construction, but are sealed with a fiberglass coating. These doors have good durability and can be customized to look like wooden garage doors but without the maintenance wood doors require. They also have good noise reduction, so they are ideal for noisy or busy neighborhoods.

If you live in an extremely cold climate, fiberglass may become brittle. They also tend to dent easily.
Aluminum Garage Doors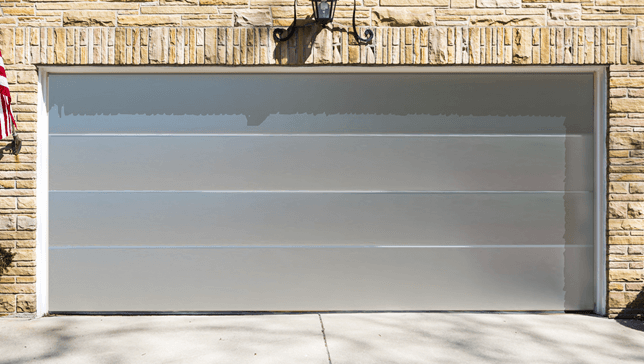 Lightweight aluminum doors are easier to install than garage doors of other materials. They also put less pressure on the torsion springs, so there is less wear and tear on the garage door system. Eco friendly and easily painted.

Aluminum doors' light weight makes them easy to install, but also makes them susceptible to dents. Errant basketballs, footballs or other sports equipment can easily dent an aluminum door.
Door Thickness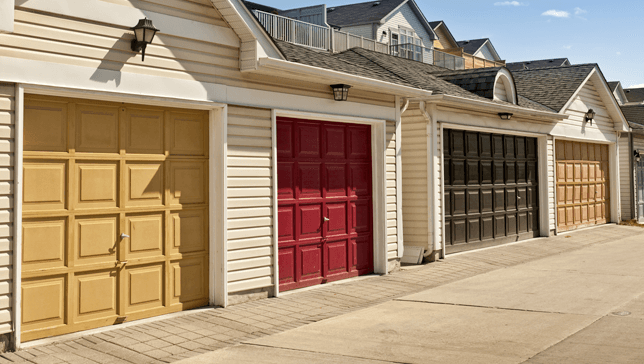 If you live in a windy climate, make sure your garage door is 24 gauge or lower. Garage doors with a thickness of 25-26 gauge or higher are prone to buckling and bending when subjected to strong winds.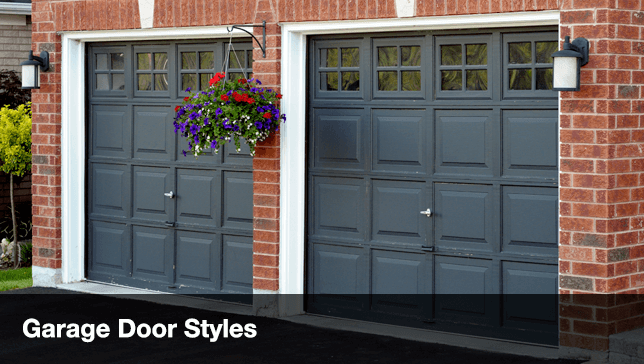 Garage doors are a big part of your home's appeal. The style you choose will have a big impact on your home's look.
Estate Garage Doors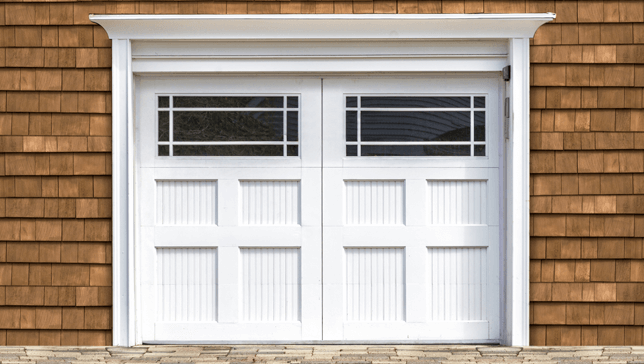 Estate garage doors are excellent for homes that have a traditional style. They are typically made of wood, offering an Old World charm and increased energy efficiency. They are customizable to your home's style and decor, making them great for homeowners who want to create a distinct, but unified, look.
Features Include:
Custom staining
Antique distressing
Ornamental hardware (knockers, hinges, etc)
Handles
Window choices

Standard Thermopane
Plastic Inserts
Panoramic Section
Carriage Doors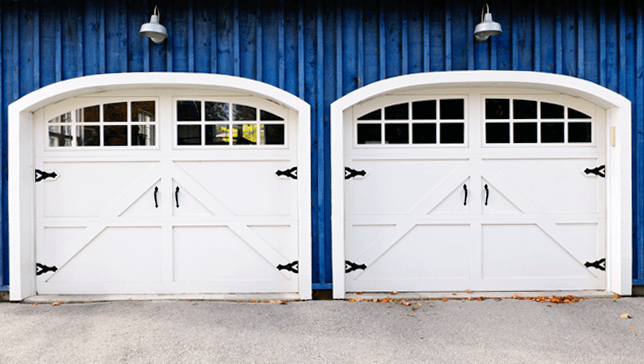 This is another traditional style, suitable for rustic homes. The style itself comes from a 19th century tradition of storing a horse and buggy in a "carriage house", long before cars became commonplace. They have numerous design options including vertical slats, panel, and crossbuck (a design that looks like two slats in an X-formation).
Materials Include:
Cedar
Fir
Mahogany
Redwood
Traditional Style Doors
Traditional garage doors are a good choice for both modern and country-style homes. They can be made from a variety of materials including: steel, wood, wood composite, and vinyl. They do not require a lot of maintenance beyond regular upkeep. Their design versatility makes them a breeze to match to your home's existing decor.
Raised Panel Garage Doors
Raised-panel garage doors have a classic style that can be seen in nearly every American neighborhood. Raised panel doors have great versatility and can be constructed of any material. Steel is a popular choice for homeowners who choose this style. They can also be stained to match your home's color scheme. For homeowners looking for energy savings, they provide excellent insulation. Besides energy efficiency, this door's solid construction and durable material make it practically maintenance free.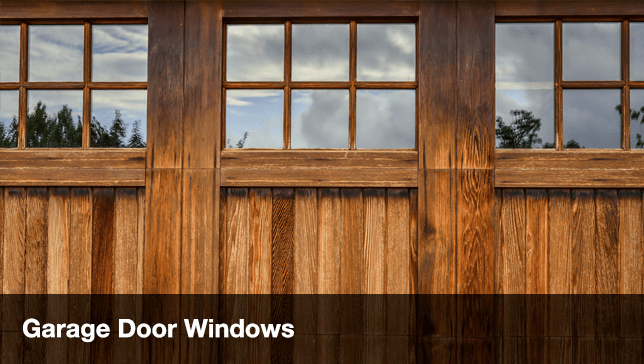 Whatever your home decor, you can create garage doors to match. From rustic-country to modern steel-and-glass, garage door windows can be customized to complement your home's aesthetic. With dozens of styles and combinations to choose from, you can create the style you want.
Antique Windows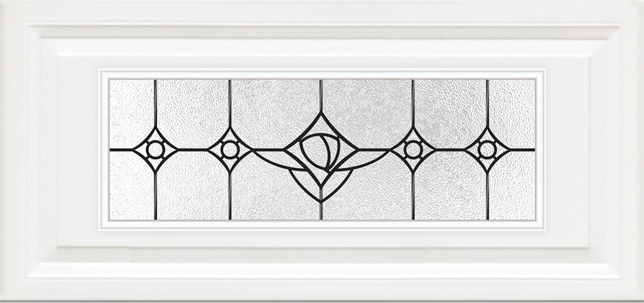 Antique windows come in a variety of designs for more elaborate garage door styles.
Arch Windows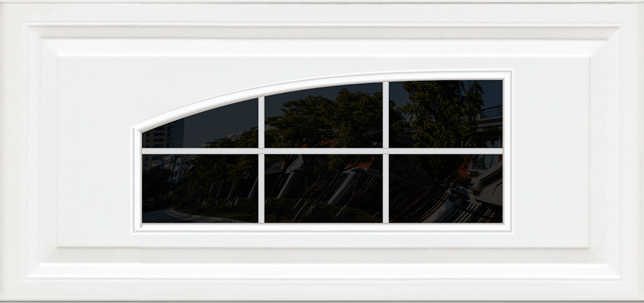 Timeless, elegant windows like these help create a cohesive look with the rest of the house.
Orion Windows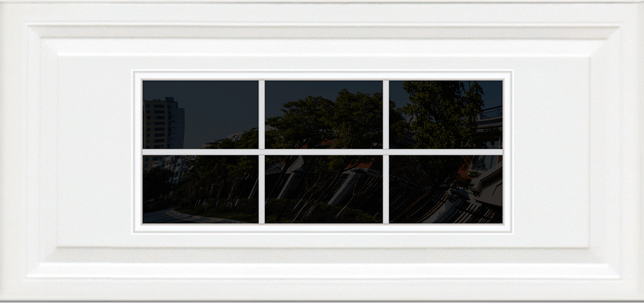 These simple windows are perfect for traditional garage doors, but also complement more elaborate designs. Orion 4-, 6-, and 8-tile designs are available.
Standard Windows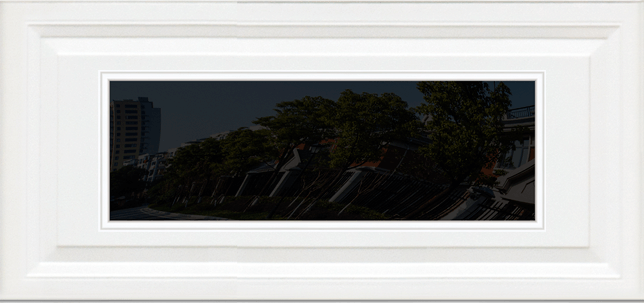 What these windows lack in pizzazz they make up for in simplicity and versatility. They are excellent windows for elaborate garage door designs, adding a simple counterpoint, or complementing a classic style.
Types of Glass
Glass finishes not only aid in privacy, but also play a role in your garage door's overall aesthetic.
Clear Glass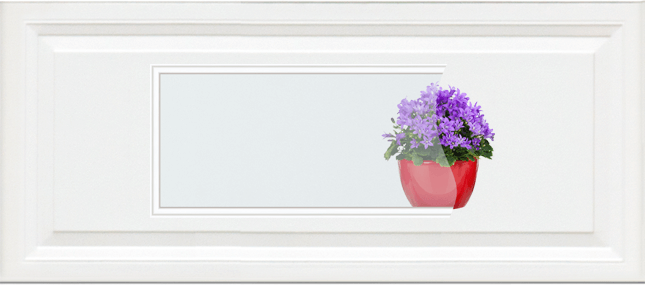 Clear glass windows are an excellent option no matter what garage door style you choose. From simple to exotic, these windows complement any decor. If you have privacy concerns, however, you may want to choose an obscure or heavily tinted window option.
Obscure Glass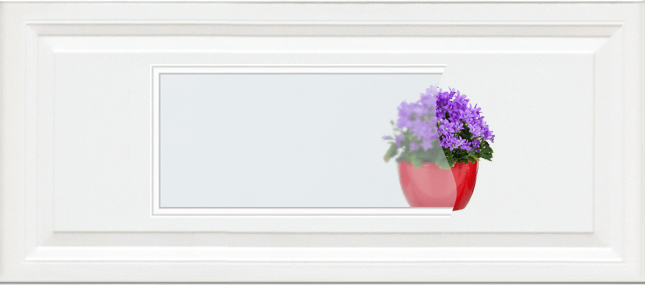 Great for modern homes, obscure glass garage door windows provide privacy as well as an attractive look. Types include frosted glass, satin, and more.
Tinted Glass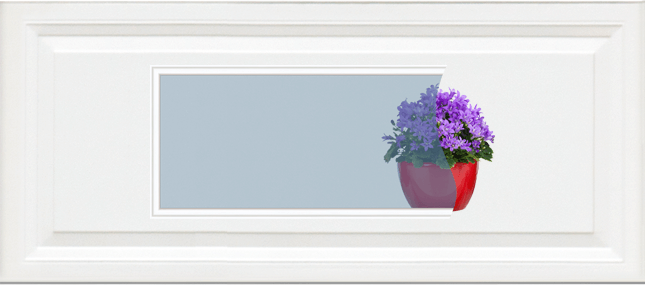 These windows are not only highly aesthetic, they have special options, such as solar bronze, to protect against UV rays.