SERVIZ Launches: Orange County - We Are Here To SERVIZ You!
After an amazing few months in Los Angeles, we're excited to share that SERVIZ is launched in Orange County!
Now all OC residents including "The Real Housewives" can all visit SERVIZ.com or download the SERVIZ app on their iPhone to purchase home services on-demand. Do you need a plumber to fix a leaking sink? Have you meant to repair that broken washing machine? Book an appointment anytime and anywhere in just seconds and we can be at your door in less than two hours. No, really. No more spending hours searching reviews, booking over the phone and waiting all day for a technician to arrive. Your life just got a lot easier!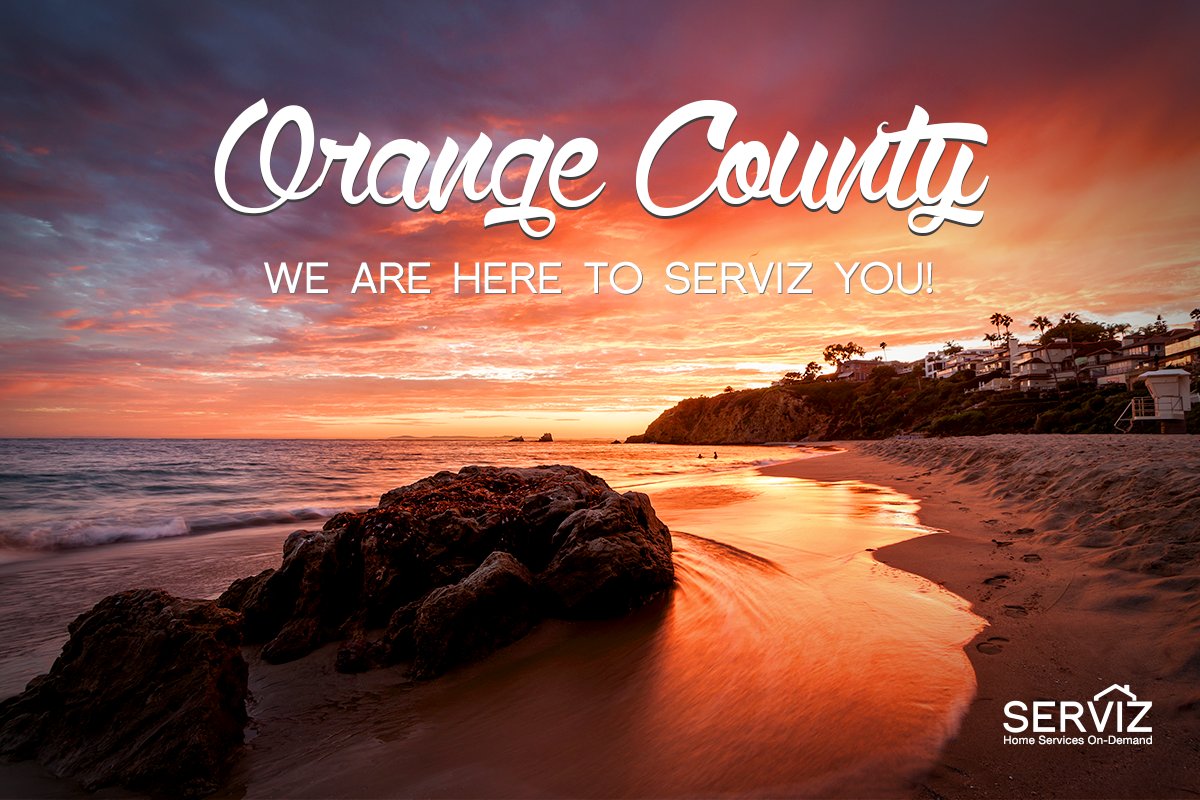 SERVIZ offers plumbing, handyman, electrical, appliance repair and carpet cleaning with additional services such as holiday lighting, painting, pest control coming soon.
We know that many consumers have no idea how much a home repair will cost in advance, and existing service providers take advantage of that. At SERVIZ, consumers know our pricing before booking because we publish our prices on our website and iPhone App. Check out some of the many benefits of using SERVIZ:
Pre-screened SERVIZ pros – SERVIZ Pros must pass a rigorous criminal background check and maintain positive ratings from customers to stay active. Pros are required to carry insurance and, for those trades that require a license, must maintain a valid license to operate that trade.
Transparent pricing – We offer upfront, all-inclusive, unbeatable prices, all pre-negotiated in advance. You'll pay $45-$60 for an hour of labor depending on the service, and we only markup parts and materials 20%.
On-demand, same day booking – Book same day appointments in seconds via the mobile app, on the computer or over the phone.
Real-time tracking – No more waiting around. SERVIZ Pros send a notification when they are on their way, and you can track their arrival in real-time.
100% paperless – All SERVIZ Pros carry iPads, and all estimates and payments are done securely through the SERVIZ iPad app.
100% satisfaction guarantee – Unhappy with a job, we will either redo the work for free or will provide a full refund.
Some of the major cities we are excited to serve in Orange County include:
Anaheim
Huntington Beach
Garden Grove
Orange
Fullerton
Costa Mesa
Buena Park
Westminster
Tustin
Newport Beach
Yorba Linda
Fountain Valley
Placentia
Villa Park
Cypress
Brea
Santa Ana
Stanton
Seal Beach
Los Alamitos
La Palma
Midway City
Dana Point
Laguna Beach
Laguna Hills
Mission Viejo
San Juan Capistrano
San Clemente
Coto de Caza
Foothill Ranch
We look forward to SERVIZing you!