Setting Up a Nest Thermostat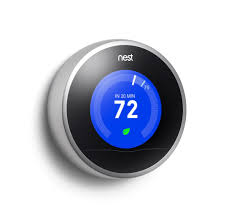 You may have heard about the savings that come with a Nest Thermostat. After a few weeks of "learning" from your heating and cooling habits, it creates an energy efficient program that helps you save on your utility bill. Typical savings are around 20%.
But what's it like to have one?
After your Nest is installed, you will need to provide it with some information, not unlike setting up a new computer. The Nest setup takes 10-15 minutes and requires the following.
Your preferred language. English, Spanish, French and Dutch are options.
Connection to Wi-Fi. After it's connected to your wi-fi, the thermostat is fully controllable via the Nest apps.
Heating and cooling info. The Nest will ask you about your HVAC system, including its fuel source: gas, electric, oil, propane (LP), geothermal, etc.
Your location. The Nest doesn't just monitor the temperature inside your home. It monitors the weather to determine what the inside temperature should be.
Temperature preferences. Set your high and low temperatures for when you're away and the Nest does the rest.
Call (844) 473-7849 to book a Nest Installation HVAC Pro today!
*Image source: Nest