The Benefits of Ceiling Fan Installation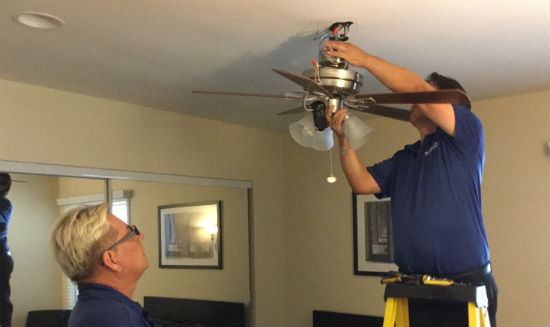 Ceiling fans can be a great alternative to running the air conditioner. Below are some of the benefits of installing a ceiling fan in your home or office.
If you need ceiling fan installation services, please call (844) 473-7849.
Improved Technology and Efficiency. Improved technology has made them an excellent complement to air conditioners, helping A/Cs run more efficiently as well. They are also energy efficient, helping to lower your utility bill by up to 30%. Although a ceiling fan does not actually lower a room's temperature, it does create a breeze that makes the room feel cooler.
Safety. Ceiling fans are also safer for children than tower or desktop fans. As an added safety precaution, it is recommended to install ceiling fans so that the blades are more than 30 inches from the wall and at least 7 feet above the ground.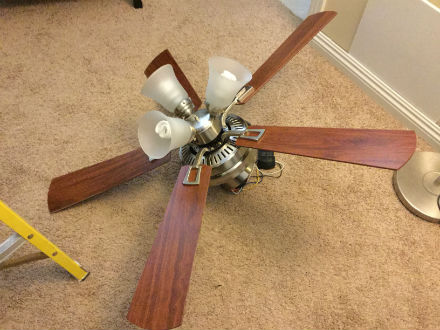 Shoo Away Pests. When installed above a kitchen or patio area, ceiling fans can deter flies and other pests from getting too close.
Style. Beyond their function, ceiling fans also add to a room's beauty. They come in a variety of styles to complement your interior decor. Whether your taste is rustic and traditional or sleek and modern, there is a ceiling fan to match your style. Oftentimes, a well-designed ceiling fan will become the room's focal point.
Lighting. Besides creating a more-comfortable temperature, it can create a more comfortable lighting scheme. Find a ceiling fan with the right illumination and you can create a variety of moods, from celebratory to intimate with the flip of a switch (or a remote).
However, ceiling fan installation is a complex process, requiring more than just DIY enthusiasm. For example, a ceiling fan cannot just be hung from an existing electrical box. Such a structure is not strong enough to support the weight and vibration of a ceiling fan. You must either use a specially rated hanger and box to mount the fan between joists or a fan-rated "pancake" box.
The process requires highly technical skills and is best left to professionals. We offer trained, expert electricians in the Los Angeles, Orange County and San Diego areas, each backed by our 100% Satisfaction Guarantee. If you're not satisfied with our workmanship, we will re-do the work for free, or if we cannot fix the problem, we will fully refund your money up to $10,000 for up to one (1) year from the date of service.
If you need ceiling fan installation services, please call SERVIZ at (844) 473-7849.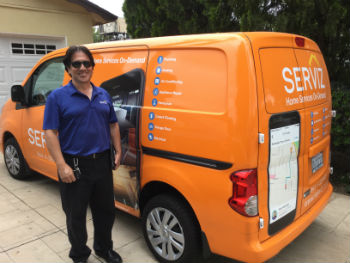 SERVIZ in the Community HVAC Ceiling Fans Air Conditioning Electrician