Top 10 Things That Will Kill You in Your House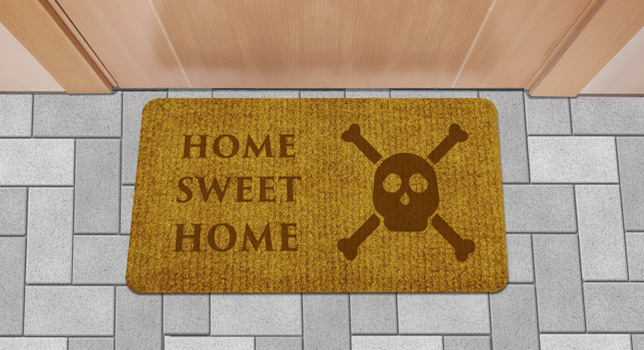 We all think of home as a safe haven. It's the place we turn to at the end of a long, tiring day. Home is a sanctuary, a place to relax and unwind.
It's also a place filled with things that can kill you. To preserve your health, please protect your home against these 10 household threats.

Test your smoke and carbon monoxide alarms. Fire injures or kills more than 20,000 every year. Test your smoke alarms regularly to maintain the safety of your loved ones. Carbon monoxide is just as deadly, leading to 500 deaths and 10,000 injuries annually. Protect yourself from this "silent killer" by having
carbon monoxide and smoke detectors installed in your home
and checked regularly.

Damaged electrical outlets.
It's all fun and games when it happens to a cartoon character, but there's nothing funny about getting electrocuted. Exposed outlets or improperly wired switches are very dangerous, especially to young children. According to the U.S. Consumer Product Safety Commission, nearly 200 people die from home electrocutions per year. Another 4000 are injured in the workplace. In all, electrical malfunctions are the cause of tens of thousands of fires a year. To prevent accidents like these, call a licensed electrician to
fix or repair damaged electrical outlets and wiring
.

A blocked sewer.
Talk about a mood killer. The methane and other gases released from a blocked sewer are not only unpleasant, they are potentially fatal. Methane is an odorless gas that can cause headaches, heart palpitations, dizziness, and unconsciousness. If you smell sewage, you may also be inhaling dangerous amounts of methane as well. If you need
sewer repair
, call a professional, licensed plumber immediately.

Loose ceiling fans.
No one wants a quiet evening of binge watching Netflix disrupted by a ceiling fan crashing on your head. An improperly installed ceiling fan can be a serious danger. If the fan's hook is loose or weak, the ceiling fan may be at risk of falling. To maintain your safety,
have a professional install your ceiling fan
and be sure to check it regularly.

Paint fumes.
That lovely sandstone you painted your living room walls may be a health risk. Traditional paints and solvents emit volatile organic compounds (or VOCs, as they are also known). Some of these chemicals have been shown to cause cancer in animals and are suspected of causing cancer in humans. For optimal safety,
hire a professional painter
. Pro painters have equipment that a DIYer might not.

Cleanliness is next to Godliness, but... We all want a clean bathroom, but not at the risk of our health. When you're giving the throne a spring cleaning, make sure you don't mix and match cleansers. The Centers for Disease Control has warned that mixing ammonia and bleach while cleaning your bathroom can create toxic gases. The fumes from this combination can attack your eyes and mucous membranes, and even leave you unconscious. If this happens to you or a loved one, call 911 for emergency help.


Dryer Fire. Putting that mohair sweater in the dryer may seem like a good idea, until your lint screen resembles Chewbacca. Simply put, a dryer with too much lint is a fire hazard. All it takes is a small spark from static electricity to start a fire. Up to 50 deaths a year occur from fires started by dryers with too much lint. For your own safety, clean the lint screen on your dryer after every load.


Mold. So colorful, so dangerous. Mold, in all its varieties - black, green, orange or red - can be harmful. Black mold, especially, can be dangerous to your health. There have been cases of black mold exposure causing nausea, vomiting and bleeding in the lungs and nose. When removing mold, be sure to use protective gloves, masks, and glasses, and to keep the area as well ventilated as possible.


Pesticides. Leave pesticides to the pests. Every year, 46,000 cases of children being exposed to potentially fatal levels of pesticide are reported every year by the American Association of Poison Control Centers. According to surveys, three out of four homes in the United States have at least one pesticide in it. Many kitchen, laundry, and bathroom disinfectants are sources of harmful pesticides, causing dizziness, nausea, and headaches. In extreme cases, exposure to pesticides can cause damage to the liver, kidneys and nervous system.


Lead. Get the lead out - of your home! Despite increasingly tougher regulations, lead still poses serious health risks to homeowners. Lead pipes, contaminated soil, and lead paint are the biggest sources of lead exposure, so take extra precautions. Check for peeling, chipped, or cracked paint regularly and have a lead professional test your home for the presence of lead, especially if you live in an older home.

Plumbing Ceiling Fans Handyman Electrician DIY Disasters (Don't try this at home) Modern Home